USB DEVICE CONTROL
USB-LOCK-RP© ENDPOINT SECURITY SOFTWARE
USB Control Software to Centrally Manage, Monitor & Block USB Devices Access to Computers in a Network.
Features smart USB lockdown to protect windows endpoints from malware & data-loss by blocking unauthorized removable drives, portable devices and wireless adapters.
Controlling USB Devices:
USB Device Control remains an important aspect of endpoint security and focuses in the protection of computer systems and data assets from threats posed by the unauthorized usage of USB devices, adapters and peripherals that can be connected to computer ports. Controlling USB storage, removable media & portable devices access to endpoints is required to secure networks that control machinery or store sensible data.
Removable storage is considered an attack vector by itself and a probable initial attack vector in an infection sequence. Windows Operating Systems are by design plug & play friendly, this is a good feature, nevertheless in industrial and business environments access to usb ports and removable devices need to be controlled to prevent systems infection and data loss.
To accomplish this, we are proud to present you the best USB port security software in the market today, USB-Lock-RP Device Control.
USB-Lock-RP Control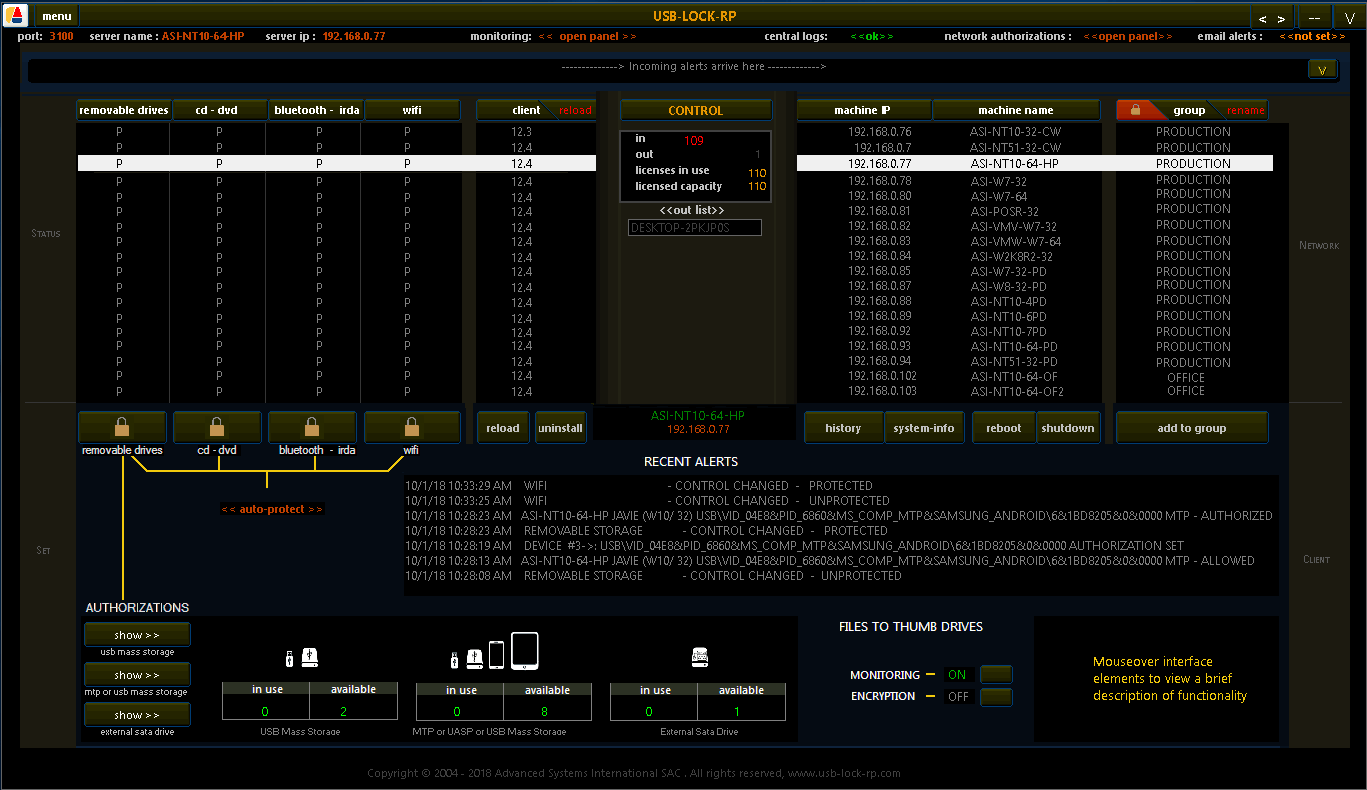 Centrally Control Devices Access to Computers
USB-Lock-RP is the strongest software solution to centrally manage access to USB ports, removable storage, mobile devices and wireless adapters to servers, workstations and laptops in a network.
Specialized in Protecting Industrial DCS/SCADA and Critical Infrastructure Control Systems as well as business computer networks storing sensible data.
The Management application operates on-premises within the network and provides real-time control over endpoint computers. It controls mobile devices access policy and enforces rules to specific computers, as well as groups of computers with ease.
Receives devices connection alerts and logs events automatically, including USB Monitoring for details on approved file transfers.
Protects by authorizing (whitelist) specific USB removable drives and MTP devices by hardware ID while blocking the rest. All VID/PID/IDs are stored encrypted to prevent spoofing. (only readable within the control interface). Devices can be authorized to work on specific machines only, as well as in all the network.
Also controls access of remote USB devices that could be shared from remote systems. Remote Devices can be blocked or be specifically authorized normally. (Compatible with USB over Network software.)
No need to order additional modules to protect data on authorized devices as it includes USB access control by strong encryption. Forcing encryption on approved removable drives that can be turned ON or OFF in real-time from its administrative console.
Classified as Device Control Software, USB-Lock-RP is a fully independent tool, specifically designed to protect windows operating systems new or old, without concern to dependencies, at the smallest memory/storage footprint of any software of its kind.
Prevents Systems Infection:
By allowing access to only authorized devices, administrators can significantly reduce the risk of systems infection by blocking USB-based exploits and other Portable devices infected with malware from entering the systems and spreading in the network infrastructure.
Blocking Zero-day USB-based exploits requires USB device control because antivirus signature-based defense is useless on Zero-day cyber attacks. Off course if your network is Air gap (isolated) this is more so, as your antivirus signatures won't be quickly updated.
Prevents Data loss (DLP):
Sensible Data stored in your organizations computers network is a most valuable asset, Using Portable devices may expose sensible data to both, outsider's theft and insider's unauthorized hands. Keeping this value protected from the risk of data loss, data theft is challenging. USB-Lock-RP Device Control prevention measures address this risk by disallowing access of unauthorized portable devices and forcing AES 256 encryption to authorized flash drives.
Docs:(PDF)
Datasheet
Installation Instructions
Client MSI Deployment Instructions
Operating Manual
Features:
Centralized | On-Premises | Real-time | USB Control
Secures Groups of Computer or Specific Computers
Whitelists Specific Devices by Hardware ID and Blocks the rest
Receives Alerts & Logs Device Connections in the Network Automatically
Presents Full Screen Locking upon Blocking Devices (includes your company logo)
Monitors & Encrypts File Transfers from Endpoints to Authorized USB drives (ON/OFF)
Easy Client Deployment through Group Policy (Windows Installer MSI).
Event logs in CEF (Common events format) for integration with SIEM.

New!

Controls USB even if no user is logged into the client system.(Setting and enforcement)
Benefits:
Prevent Computer Systems Infection
Prevent Data-loss from Computers & Devices
Inform of Devices Connection Events & Activity
Compliance with Endpoint Security Policies and Regulations
Permanent licensing model, at low cost. (no additional modules needed)
Requirements:
Network TCP/IP (LAN or WLAN).
Windows Operating Systems from NT 10 to NT 5.1 (Physical or Virtual Machine)
Other Dependencies: None
Users:
Critical Infrastructure Cyber Security
OT Industrial Networks DCS and SCADA
IT Small-Mid-Large Business/Enterprise Networks.
Protection Scope:

USB Removable storage drives: USB 2.0, USB 3.x | USB Attached SCSI: UAS | badUSB HID (USB Rubber Ducky) | Remote USB drives | Card readers: CF, SD, SDMicro, MMC, XD | Media transfer protocol portable storage: MP3 players, iPods, iPads, PDA, hand-held computers, tablets, digital cameras, mobile phones, blackberry | External magnetic hard drives: e-SATA, Firewire (IEEE 1394) | External and Internal: CD, DVD, Blu-Ray | Wireless Transceivers: WiFi, IrDA, Bluetooth.
Software Type:
Control: Management application On-Premises (not Cloud based)
Client: Local System Service
Supported Operating Systems:

From NT 5.1 to NT 10:
Windows-Server 2016, Windows 10, Windows 8.1, Windows-Server 2012 R2, Windows 8, Windows-Server 2012 , Windows 7, Windows Server 2008 R2, Windows-Server 2008, Windows Vista, Windows-Server 2003 R2, Windows-Server 2003 , Windows XP, Embedded POSReady 2009, Virtual Machines and Thin Clients. (32/64 bits)
Development:
Latest Version: V 12.8.2

(August 20th 2019)

Age: 14 Years (Since 2005)
Status: Active
Video:
USB-Lock-RP Device Control Introduction
Straightforward Operation:
Start protecting your network in minutes. Very easy to operate and set security policy. Protection scope is divided in 4 sectors; just select a client machine or computer group and press the desired lock to keep removable storage and portable devices threats away. Once set operation is automatic. Intuitive administrative GUI, virtually no learning curve involved.
Strong USB Device Control:
Prevents Zero-day USB-based exploit from entering your systems. Blocks USB Incoming and outgoing of data. Authorized Devices Hardware IDs working storage is AES 256 variable key, variable initiation vector CBC Mode encrypted and HEX masked. Prevents USB Devices Hardware ID spoofing. Secures systems even if the user is running with administrative credentials
Centrally Managed Granular Policy:
Authorize specific USB removable drives and/or specific smartphones access to specific computers or to all computers in the network and block the rest. Prevents unauthorized access to USB ports, removable storage, portable devices and other Removable Media from accessing operating systems in the network.
Real-time Endpoint Device Control:
Allows to set or change security measures and automatically receive and log details on blocked, and authorized devices as they are plugged into endpoint computers in real-time. As well as logging and receiving records of files transferred from endpoints to authorized USB Devices as events occur.
Personalized USB Lockdown:
Presents informative Lockdown alerts screens at client computers upon blocking devices, USB Lockdown screens presented at endpoint computers are personalized with the end-user organization/enterprise logo. Personalization is automatically done by our team prior to secure electronic delivery (within 4 hours order made)
Smart USB Access Control Software:
Designed to control USB port access without interfering with non-storage USB peripherals (mouse, keyboards, webcams, printers), But capable of detecting and unobtrusively protect against keystroke injection and malicious payload attacks by devices such as BadUSBs (USB Rubber Ducky) that impersonate HID keyboards or mouse.
USB Monitoring:
Effective monitoring of data/files transferred from endpoint computers to authorized USB portable storage (thumb/flash/pen drives). Records automatically arrive and are stored secured at the Control server. The Administrative Console can be set to send these records to a SMTP (TLS/SSL) email within your domain in real-time.
USB Encryption:
Protects information contained inside authorized Thumb drives by optionally forcing automatic AES 256 encryption of all transferred data/files from network endpoint computers to allowed USB devices, Effectively provides USB access control to protect sensible data in cases when the authorized device is lost or stolen. USB Encryption policy can be enabled or disabled with just a click.
Perpetual use Licenses:
Licenses are End-user Organization Perpetual use Licenses and include 2 years updates, after 2 years updates are optional at 20% of licensing cost. USB-Lock-RP is not support demanding, once set it works as intended, this has to do with product maturity and that at client-side it deals with hardware, not users. Support is in English at no charge by email or phone.
Autonomous Control:
Doesn't require internet or Active directory.
Protects even if client endpoint is disconnected from the network. (At the Control, disconnected Laptops will show in the out-list). Protects at System level. (effective even if running under administrative account.) Starts protecting even if no user is logged into the system. Works on air-gapped networks and remote locations.
Available for Download:
Fully functional DEMO ready for download. Test how USB Lock security software, manages USB ports and Devices access to endpoints with ease and monitor authorized Thumb drives without time limitation in up to 5 clients. Dedicated team on stand by to assist on any questions you may have (24x7).
Easy Client Initial Deployment:
USB Lock Client can be mass deployed as Group Policy Object in Active Directory Environments, USB Lock client is presented as a standalone Windows Installer MSI that is configurable by command line, ensuring effective initial client deployment and updates.
Best USB Device Control Software
USB Control:
Control USB devices access to servers, workstations and Laptops in a network. Blocking USB, flash drives, portable devices and wireless adapters is enforced in real-time. To effectively protect the endpoint a USB-Lock-RP client (agent) is deployed and operates as a system service locally. Besides USB security policy enforcement, the service purpose is to communicate with the USB-Lock-RP Control Application. The USB Control is installed on-premises within the network/domain and operates independently to centrally manage devices access. Its main function is to control usb and other removable devices access to endpoint ports, receive alerts and logs events.
USB Access Control:
To manage access to data contained inside USB flash drives (e.g.,Thumb drive, Pen drive, Memory Stick). Access is restricted by automatically forcing strong encryption to all files transferred to the protected USB drive. There is no software installation required inside these devices as the USB-Lock-RP service is in charge of Monitoring, Encryption and Decryption. This method effectively protects data inside usb removable storage according to the Control Application policy setting (Auto encryption can be set ON or OFF in real-time).
USB Lockdown:
Blocking access to the computer desktop. Lockdown occurs when unauthorized USB storage devices (e.g.,USB 2.0, USB 3.x) are connected to usb ports (e.g.,standard USB type-A, USB type-C), or remote USB. USB-Lock-RP considers the unauthorized connection of usb storage devices a serious intrusion attempt that should be stopped by all means, USB Lockdown (blocking) is part of the software redundant measures applied to protect the system. This measures take place upon detection and included preventing drivers to load, stopping, dismounting, disabling, ejecting devices and also blocking access to the desktop. Protection measures escalated depending on the device type and the device status but lockdown is normally included when blocking usb and other removable storage under the software protection scope.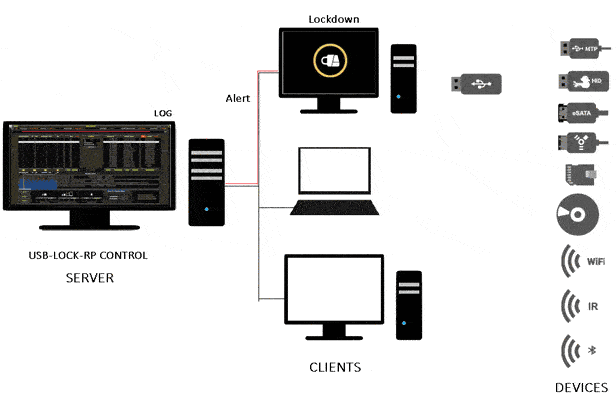 Blocking USB & desktop Lockdown is simultaneous and present full-screen window alerts that extend to multiple monitors and remain until any of the following conditions is met:
The unauthorized device is removed. (client-side)
The master password is used. (client-side.)
The sector is unprotected. (control-side.)
The device is authorized. (control-side.)
USB Control
How to Block, Authorize, Monitor & Lock USB:
Block Removable Storage on a Specific Computer:
Select a client PC from the USB-Lock-RP management console network list.
Click on the left side lock.
Done!, you have just protected the selected computer removable drives sector. Now the following devices will be blocked: USB, eSATA and Firewire drives, Mobile phones (MTP Protocol), Smart cards while also smart blocking USB keystroke injection attacks. Setting are enforced in real-time (To unprotect just click the lock again).
Block Removable Storage on a Group of Computers:
By default 5 groups are created, and all new installed clients will belong to group 1 as seen on the groups column, so you are ready to block removable storage on all computers at this point.
Rename groups using the group rename function.(optional.)
Add computers to groups by right clicking on the selected machine and choosing a group name.(optional.)
Click the Group security button and choose the group name, sector (e.g., Removable drives), desired action (e.g., Protect) and press OK.
Great!, you just Locked removable drives sector on all computers that belong to the chosen group. You will see all computers in that group changing its security status to protected in real-time.

Whitelist Thumb drives and Smartphones:
Authorizing specific USB pen drives and Mobile phones is as easy, just insert the device you need to authorize (at the control or at the client) and press authorize. Done!
Besides USB Control (Removable Storage Sector), Three other sectors to manage are available and are as easy to protect: CD/DVD Sector, iRDA/Bluetooth Sector, and WiFi Sector.
All blocked or authorized device connection to any client computer automatically generate an alert event stored encrypted at Control server. This records are readable from within the Central USB-Lock-RP Device Control interface and show date-time, Hardware ID, logged user & machine name.
All blocked devices at endpoint client generate a full screen alert visible at client bearing the licensed organization logo at top-left corner.
Monitor Files Transferred Thumb-drives:
USB Monitoring is activated or deactivated with just one click independently of the removable storage sector protection state. (while protected or unprotected state)
Monitored data include the name and exact weight of transferred files from the client endpoint PC to flash drives, logged user, device hardware ID, source machine name, date/time when the event started.
Records are sent encrypted AES 256 hex masked from the endpoint computer to the control in near real-time and are organized at the control by endpoint machine name/date/time for review as needed.
At the Central control server the collected data remains encrypted and same as all device insertion attempts records is only readable within the Device Control interface.


Protect Information Inside Thumb drives (Encryption):
USB Access Control is done by forcing automatic Encryption, this function can also be turned ON or OFF with just one click. (USB Monitoring needs to be activated for Encryption to work).

When USB Encryption is active all files transferred from the endpoint computer to authorized USB flash drives are automatically AES 256 encrypted. (all data not just the headers)
Stored files on encrypted USB Thumb drives can be opened within the endpoint originating client or within any other endpoint USB-Lock-RP client that have USB Encryption activated. (files are automatically decrypted in those systems when opened)

This function ensures that information contained inside authorized devices is only accessible within determined computers in the network and none outside the network.
Protect Against badUSB devices:
Included in the removable drives sector is protection against badUSB device e.g. USB Rubber Ducky, this type of device is extremely dangerous as its firmware has modified to impersonate Human interface devices (HID) such as keyboards.
This class of BadUSB can inflict keystroke attacks and introduce malicious payloads to harm the operating system and network infrastructure. Blocking USB of this type is a standard function in USB Lock, the program makes a quick analysis when detects any change on keyboard/mouse enumeration to prevent such attacks, other than that keyboards and mouse work normally without restriction.
Reviews:

Central Control of Device Access to Computers.

QUOTE: USB-Lock-RP Device Control Software is a unified system to centrally control access to computers by external and remote devices. This protection includes USB ports, removable storage, mobile devices and wireless adapters to servers, workstations and laptops in a network. Specifically, USB-Lock-RP responds to the vulnerability of individual and enterprise-wide computers to cyber exploits...



Article: by Yan Ross
in: CyberDefenseMagazine.com
Direct means of organizations information protection.

QUOTE: ...USB Lock RP is also one of the only pieces of USB control software that personalizes block screens and relevant boxes with a customer's logo. This builds USB Lock RP into a company's policy and gives each and every client a feeling of personalized control...


Article: by David Bisson
in: InformationSecurityBuzz.com
Endpoint security that is not a pain in your end!.

QUOTE: ...USB Lock RP not only allows you to maintain control and have flexibility. It gives you peace of mind when it comes to endpoint security and removable devices and more importantly is gets rid of PEST!...



Article: by Ron Barrett
in: NetworkWorld.com
USB-Lock-RP is Centrally Managed USB Control Software that comes with perpetual use license, reasonable cost, operates without requiring internet connection, and offers its service as a security tool you can call your own. No matter how big or small your network is, USB-Lock-RP is designed for performance and scalability, effectively protecting computer Networks of any size.


Licensed by top-notch organizations
The Advanced Systems Team invites you to Download & Try USB Lock to put USB security risks under Control.
Latest version: 12.8.2 (Published August 20th 2019)
USB-Lock-RP v.12.8.2 update highlights:
Event logs in CEF (Common events format) for integration with SIEM.
Client Computers are manageable by the Control even if no user is logged into the system.
Client Connectivity improvements.
Capability to increase/decrease the Control network list font size. (Press Control button)
New Reload function.
Improvements on encrypted storage.
Clients report to the Control their revision number in addition to the version number.
Local client service events log: Installed/Uninstalled/Started/Stopped