USB-Lock-RP Badges & Reviews
Badges: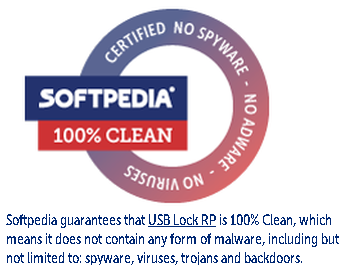 Reviews:
"Highly recommended!"


We have been using USB Lock for several years and can thoroughly recommend it.
USB Lock is non-intrusive and seems to work well over a variety of Windows environments without causing any lack of stability or interacting with other applications, it very easy to install and maintain and for the few times we have required support, this has been second to none, both in speed of reply and speed or resolution.



Reviewed by: John W.
Infrastructure Analyst at Perenco UK / BP Exploration Ltd
Read this comment in Linkedln.
"Amazing service"

(5 stars rating)

Pros: The software does exactly what we need, but it's the responsiveness and quality of support that stands out. We had an initial issue due to the way we are using the software, and within one day, Javier provided an updated version that solved our issue.

Overall:I can't say enough positive things about the way my support requests have been addressed. If you are looking for this type of device security, I doubt you'll find a better option.



Reviewed by: Ryan I.
IT ADMIN at TG3 Electronics, Inc.
Read this review in SourceForge.
"Best for USB/CDRom Blocking"

(5 stars rating)

What do you like about USB-Lock-RP?
After struggling with fixes, hacks, due to users loading USB and CDRom devices on their workstation adding security risks, I found USB Lock RP 11 years ago. I fell in love with it and been a customer since, continuing to recommend it to anyone trying to secure their network. Starting from basic features long ago, the upgrades have included some great features. I run it at multiple facilities. It's very much worth a try.

What do you dislike about USB-Lock-RP?
There isn't much I don't like about USB Lock RP. The interface is good, email notifications, being able to lock and unlock the usb drives on workstations within seconds, overall the best in the market.



Reviewed by: Nelson B.
IT Manager at Ethox Chemicals, LLC.
Read this review in Crozdesk.
"Highly recommend this product!"


Not only is the product top notch, the service is excellent!



Reviewed by: Nickie L.
CIO at Jennie M. Melham Memorial Medical Center
Read this comment in Linkedln.
"USB-LOCK-RP is rocking fast!"

(5 stars rating)

Pros: - Easy Interface - Easy Installation via GPO or stand alone - Does not need any extra resources or components to run on any workstations - Runs even on a legacy workstations smoothly - Easy Management Via Admin Control Panel.

Overall: I am looking for a software that restricts our companies USB ports, but i came across USB-LOCK-RP and tried contacting Mr. Javier to let me try this out and he give me humbly enough trial licenses to test everything before we purchase it. Even do technical support while we are still on our trial period.



Reviewed by: Marc Anthony G.
Network and Systems Administrator at RD Tuna Canners LTD.
Read this review in SourceForge.
"This software and its support team can be strongly recommended."


After testing quite a bit of solutions we decided to order USB-Lock-RP Device Control Software, we have use it for years, its very straightforward and works very well to protect the computers in our network. Support has been available when required but has rarely been needed as the software works as intended.



Reviewed by: Athanasios P.
IT Manager at Elfon Ltd.
Read this comment in Linkedln.
Editors Pick Award 2023 at Windows 10 Download
"This robust software offers unparalleled protection against unauthorized USB and peripheral device usage. With its real-time capacity to control access to devices, it ensures the highest level of data security. USB Lock RP's intuitive interface makes it easy to manage and monitor device access across your network. Experience a new level of control and peace of mind with USB Lock RP."
Best USB Control Software for Enterprise


Licensed by top-notch Organizations

USB Lock is the standard when it comes to protecting data assets from risk associated with the connection of USB devices in a work place (since 2004).
We are USB Control Specialists.
For the past 19 years, the USB-Lock-RP team is dedicated to providing IT security administrators the most straightforward tool to control USB devices access to corporate computers.

Javier A. Arrospide.
Author of USB-Lock-RP Security Software.
CEO of Advanced Systems International