Centralized Device Control Software for Windows
Classified as Device Control Software, USB-Lock-RP is effective in the centralized management of devices access to any windows operating system to secure organizations data assets and computer systems preventing data-loss and systems infection in IT or Industrial networks. It's a straightforward software solution that provides Advanced USB Security, including: USB Lockdown, USB Monitoring and USB Encryption from a Central Control, in real-time and much more.

USB-Lock-RP Device Access Control provides capability to centrally manage the access of: Removable USB, e-Sata, Firewire drives, mobile phones/smartphones, Compact discs, and Bluetooth, IrDA, Wi-Fi Transceivers to any windows client computer in the network. Besides USB Lockdown & protecting against portable storage devices and blocking wireless networks, it includes capability to block keystroke injection attacks by BadUSB devices such as USB Rubber Ducky, Teensy, Arduino.

The Central administrative Console can be installed on any Windows Server/station in the Network and allows to control devices access from a central location. Its straightforward control interface is easy to operate and settings are enforced to clients in real-time.
USB-Lock-RP Console
Device Control Software Interface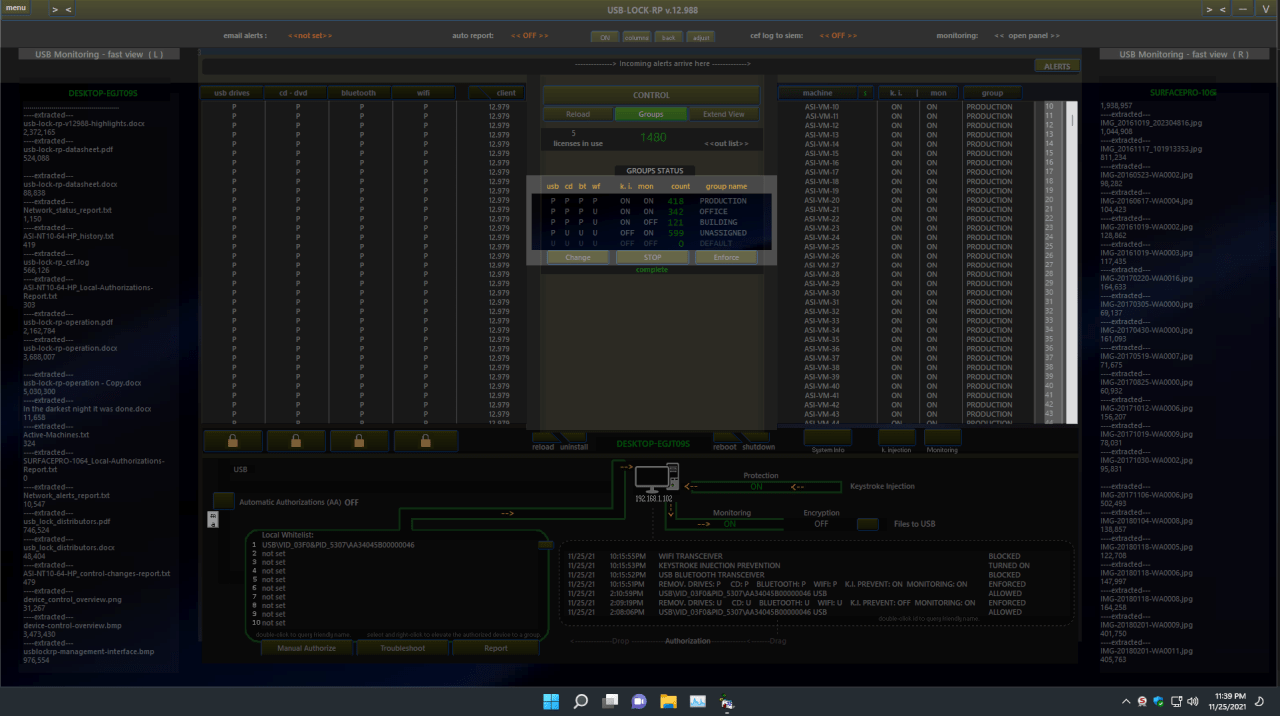 From the control you may sets protection policy and authorize devices on any client computer on the network, the control also receives and stores records of allowed or blocked device connections as well as data collected while monitoring authorized flash drives in near real-time, automatically.
Device Control Software:
Authorize specific USB drives and lockout the rest is simple. Specific USB Removable storage, smartphones and other devices access can be approved on specific computers or across the network.
Prevents Systems Infection:
By allowing access to only authorized devices you will significantly reduce the risk of systems infection by blocking USB-based exploits and other Portable devices infected with malware from entering your systems and spreading in your network infrastructure.
Zero-day USB-based exploits won't be stopped by antivirus because signature-based defense is useless on Zero-day attacks. Off course if your network is Air gap (isolated) this is more so, as your antivirus signatures won't be quickly updated.
Prevents Data loss (DLP):
Sensible Data stored in your organizations computers network is a most valuable asset, Using Portable devices may expose sensible data to both, outsider's theft and insider's unauthorized hands. Keeping this value protected from the risk of data loss, data theft is challenging. USB-Lock-RP Device Control addresses this risk by disallowing access of unauthorized portable devices and forcing AES 256 encryption to authorized flash drives.
Monitoring & Encryption:
Monitoring of file transfers to authorized USB portable storage is available as well as automatic AES256 Flash drives Encryption.
Both functionalities are included and either can be turned ON or OFF on any USB-Lock-RP client with just one click.
Useful functions:
Auto-protect function:
Lockdown USB and other portable devices sectors after a set period of time, nice to have when engineers need to access the system for maintenance, this function can be used so the system is protected automatically once they are done.
Master password function:
Useful to allow one-off authorization of a device from client-side. The master password can be set, changed or revoked from the control at anytime.
Auto-email alerts function:
Can be set to send incoming alerts to a set email in your domain as additional reporting method, Allows for TLS or SSL transmission protocols.
Central Logging:
Schedules the automatic output of status and alerts report at a fixed hour, daily or weekly. To a set share path. Useful on multiple control setups.
USB Device Control Software Client-side Lockdown when blocking access:
Upon unauthorized device detection, the USB or other device access to the system is denied and a full screen lockdown window, personalized with the licensed organization logo prevents access to the desktop. The full screen window lockdown remains until: the unauthorized device is removed, or the master password is used, or the sector is unprotected from the USB-Lock-RP Device Control Administrative Console.
Protection Scope
USB Removable storage drives: USB 2.0, USB .3.0 | Card readers: CF, SD, SDMicro, MMC, XD | Media transfer protocol portable storage: MP3 players, iPods, iPads, PDA, hand-held computers, tablets, digital cameras, mobile phones, blackberry | External magnetic hard drives: e-SATA, Firewire (IEEE 1394) | External and Internal: CD, DVD, Blu-Ray | Wireless Transceivers: WiFi, IrDA, Bluetooth.
Supported Operating Systems
From NT 10 to NT 5.1:
Windows-Server 2016, Windows 10, Windows 8.1, Windows-Server 2012 R2, Windows 8, Windows-Server 2012 , Windows 7, Windows Server 2008 R2, Windows-Server 2008, Windows Vista, Windows-Server 2003 R2, Windows-Server 2003 , Windows XP, Embedded POSReady 2009, VMware and Thin Clients. (32/64 bits)
Communications / Data Storage
Control-application/Clients-service communication is TCP/IP. Port is to be set at installation, defaults to 3100 if not set.
Internal data such as machine names and Hardware IDs are stored and transmitted encrypted and are only readable within the device control interface. AES256 variable key, and initiation vector, hex masked, encryption.
Protection Level
USB-Lock-RP device control software protects at system level regardless of user account privileges, Security is efective even if user is running under administrator account, and starts protecting even if no user is logged into the system, It's suitable for protecting any type of windows network. IT or Industrial Air-Gapped or not.
USB Lockdown and much more:
Lockdown of USB, External-Sata and Firewire Ports to block unauthorized portable storage devices without burdening the normal use of non-storage peripherals is very important. Nevertheless Blocking Removable Media such as Smart cards and Compact disks as well as Wi-Fi network connections, and IrDA/Bluetooth wireless transmissions is also required to properly protect computers in the network and effectively prevent risk of infection and data-loss. USB Lock Software does all this and much more, For example authorizing specific Thumb drives or smartphones is very easy. Authorizations (whitelisting) can be made to specific computers or network wide. Additionally USB Lock RP Software also includes capability to monitor authorized devices and to secure information contained inside thumb drives in the core software version without the need to ordering additional modules or licenses. Much more than just USB Lockdown software, USB-Lock-RP is the best central management device control software solution in the market today!.
We invite you to learn more about USB-Lock-RP Endpoint usb device control Software, download, install the DEMO, and start controlling devices access to protect your organizations data assets and systems.