USB-Lock-RP - Portable Storage Device Control Software Solution
USB-Lock-RP Security Software, prevents data-loss in IT Networks by centrally controlling the use of portable storage devices such as Removable storage USB, e-Sata, Firewire, USB flash drives, mobile phones, Compact discs, and Wireless Bluetooth, IrDA, Wi-Fi Transceivers to any client computer using windows operating-systems ranging from NT5.1 to NT10 servers or stations 64 or 32 bit.
USB-Lock-RP is classified as Portable storage device control software and is effective in protecting organizations data assets and also preventing data infection attempting to enter network endpoints by these means.
Centralized portable storage device control software:
USB-Lock-RP security software, Protects network computers from a central control application, The Central Control can be installed on any Windows Server/station in your Network and will allow you to manage endpoint security from a single location. Its straightforward interface is easy to operate and settings are enforced in near real-time.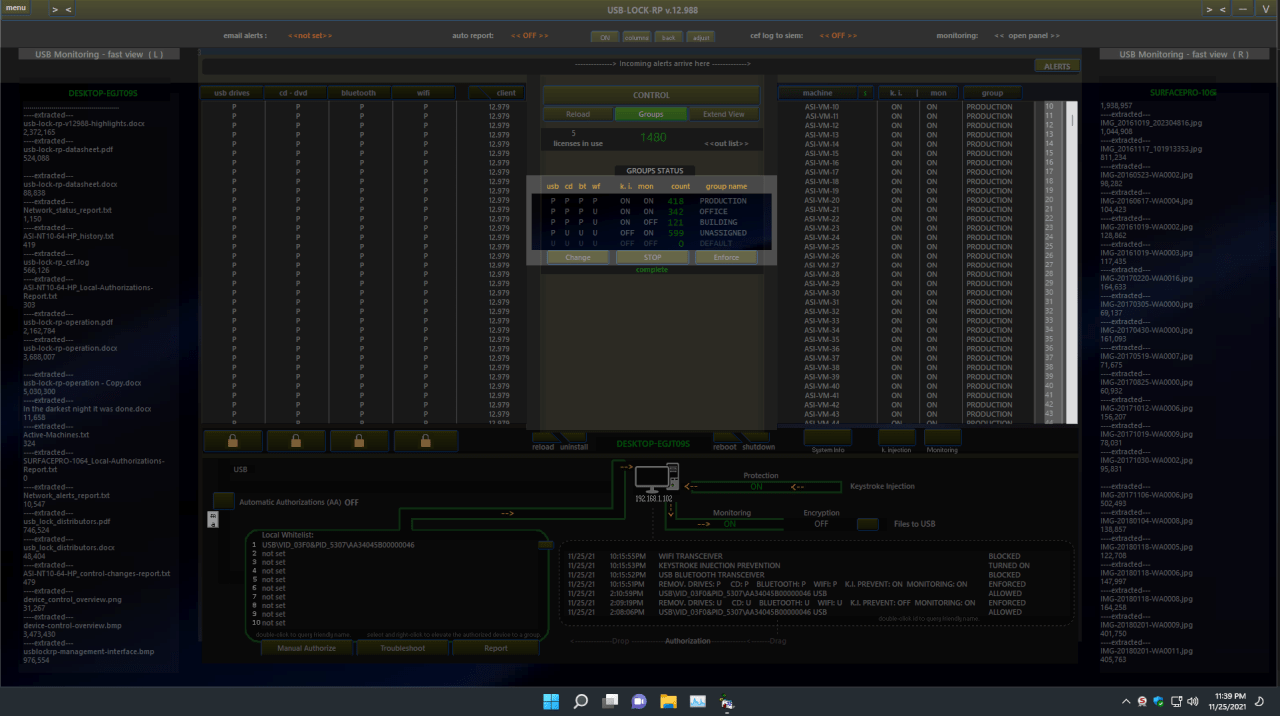 USB-Lock-RP Centralized Removable Storage Device Control
Basic capability:
Authorizing specific devices is simple. Removable storage devices can be authorized to be allowed on specific clients or across the network. The control receives records of allowed or blocked device connections automatically. These records can be seen as per machine or as network-wide reports.
Useful functions:
Auto-protect function: Protects after a set period of time, nice to have for example when engineers need to access the system for maintenance this function can be used so the system is protected automatically once they finish.
Master password function: useful to allow one-off authorization of a device from client side. The master password can be set, changed or revoked from the control at anytime.
Auto-email alerts function: Sends incoming alerts to a set email in your domain.
Extended Capability:
Monitoring of authorized removable storage USB drives is available as well as AES 256 encryption enforcement. Both functionalities are included and either can be turned ON or OFF on any client with just one click.


Client-side behavior:
Upon blocking of devices afull screen alert informing that the device is disallowed appears, this alert informative screen is personalized with the licensed organization logo at top left corner.
USB Lock Endpoint security software by Advanced Systems International is strong and has been audited by world's best.
USB-Lock-RP Endpoint security software evolution:
The Advanced Systems team started USB-Lock endpoint security software development in 2004 (when endpoint security Portable storage devices access control solutions could be counted with the fingers of one hand). With the set goal to provide a light weight, strong software solution to protect ICS and Scada supervisory computer systems in industrial networks.
As time passed it became apparent that the software was suitable for protecting windows operating systems and data assets in all type networks. USB-Lock security software evolution has focused on incorporating support to newer operating systems and to include new device technologies under its protection scope. It has remained true to its original concept of providing a straightforward tool to empower organizations over unauthorized removable storage use risk.
Today in 2017 while the big antivirus players of the past and new comers have narrowed their sights and budgets in endpoint security market, complex highly integrated solutions proliferate, silently taking control away from organizations, nevertheless USB-Lock-RP remains a specialized solution that brings ease to complexities and provides control to the licensing organization. When choosing Endpoint security software remember you don't get control by giving control away.
USB-Lock-RP comes with permanent licensing, doesn't require internet connection and offers its service as a tool you can call your own.
Local removable storage device control software:
Computers that are not connected to the network, also need to be secured from same the risks posed by portable storage unauthorized usage. USB-Lock-RP-One (Stand-Alone version) present a minimalistic Control interface and offers the same granular control as the Network version to Block or allow devices with ease and effectivelly secure these systems locally.
Supported Operating-Systems:

Windows-Server 2016, Windows 10, Windows 8.1, Windows-Server 2012 R2, Windows 8,Windows-Server 2012 , Windows 7, Windows Server 2008 R2, Windows-Server 2008,Windows Vista, Windows-Server 2003 R2, Windows-Server 2003 , Windows XP,Embedded POSReady 2009,VMware and Thin Clients. (32/64 bits)
Protection Scope:

USB Removable storage drives: USB 2.0, USB .3.0 | Card readers: CF, SD, SDMicro, MMC, XD | Media transfer protocol portable storage: MP3 players, iPods, iPads, PDA, hand-held computers ,tablets , digital cameras, mobile phones, blackberry | External magnetic hard drives: e-SATA, firewire (IEEE 1394) | External and Internal: CD, DVD, Blu-Ray | Wireless Transceivers: WiFi, IrDA, Bluetooth.
Communication and program internal data storage:

Control application/Clients service communication is TCP/IP - Communication port is to be set at installation (defaults to 3100 if left blank) - Critical Control Client communications and internal program data storage are AES 256 variable key, variable initiation vector CBC Mode encrypted. (HEX Masked)

You may download USB-Lock-RP functional Demo, it will allow you to test and implement portable storage device control in minutes.