USB-LOCK-RP™© OFFICIAL DEMO DOWNLOAD
Demo Installation Instructions:
Control Installation:
Install "setup_control.exe". (Run as administrator in 1 computer).
During installation enter a port number or leave blank to use default port 3100.
Start the Control:
Click on: Windows Start Menu - Programs - USB Lock RP - Start USB Lock RP
Enter password and click OK. (During Demo passwords will autofill, just press OK.)
When starting for the first time the program will prompt to install clients. The main interface will show the IP Number of the control. (This IP or Machine name should be used while installing clients.)
Proceed to install clients.
Clients Manual Installation:
Install "setup_client.exe". (Run as administrator in up to 5 computers.)
During installation enter the "Control" IP address or machine name.
During installation enter the port number you enter during control installation or also leave blank.
Continue to finalize the installation.
Setup is complete!
Once a client is installed it establishes connection with the control and will show in the control network list.
You can now start to managing devices access in real-time from the Control straightforward administrative interface
Uninstalling Clients: Clients need to be uninstalled from the Control. Select the client from the list and press uninstall.
Uninstalling the Control: After uninstalling clients. Click on: Windows Start Menu - Programs - USB Lock RP - uninstall USB Lock RP
Differences between the demo with the licensed version:
Demo Control password can't be changed. (Password autofills)
Demo Control Max. capacity is 5 clients. Licensed versions are prepared to manage the quantity ordered
Demo Clients alert screens appearing upon blocking devices show a demo logo. In licensed version your organization logo will show at top left corner of any alert appearing at client Stations.
The Demo will not expire and will allow testing all functionality in 5 client stations, nevertheless mainly because the Control password and Master password autofill it should not be used to secure systems.

USB Lock RP Free Licenses:
If you are testing for a large order and require some free licenses to review personalization or put the software to work in small scale prior to ordering, let us know as we could grant to your organization fully Licensed setups to control 10 clients at no charge.

USB-LOCK-RP version 12.9.63 download:
For Windows Operating Systems

Updated: January 22, 2021.
The DEMO Control allows to Centrally Manage
Devices Access in up to 5 Computers. (clients)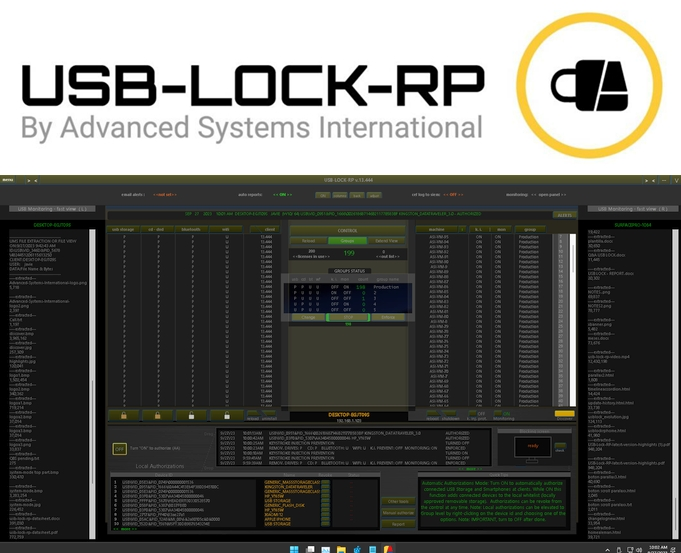 Contents: (All digitally signed components)
Control installer
Client installer
Datasheet
Installation instructions
Operating Manual
MSI Deployment instructions.
Note: Testing is fully supported.
Our team stands by to assist on resolving any questions you may have.
Support is given by e-mail or phone in English. Just let us know.
In this page you can always find the latest version official demo.

If you would like to learn more about USB-Lock-RP, please visit our USB Device Control Software page.