Supported Operating Systems:

Windows 8
Windows 7
Windows Server 2008
Windows Vista
Windows Server 2003
Windows XP
Windows 2K
(32/64)

---
Technical Data Sheet

(read/print friendly pdf)
---
Fully functional demo available
Version 5.99 NEW 3 in 1 version demo
Updated: July 24th 2013

- Name: usblockrp_demo.zip
- Size 5.15 MB
- Demo capacity 5 clients
- Demo duration: 15 days
- Remote uninstall capable


Installation instructions pdf
Softpedia guarantees that USB Lock RP is 100% Clean, which means it does not contain any form of malware, including but not limited to: spyware, viruses, trojans and backdoors.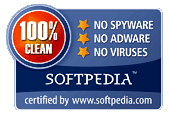 Click award image to view certificate
USB LOCK RP v.5.99

Network information protector
(core application)

Centralized devices control to protect information in network PCs

Capabilities

NEW compatible with USB Lock RP Master Control . higher hierarchy management learn more about USB lock RP Master Control
Block, or allow removable storage use by class in real-time

Authorize groups of usb devices by VID, PID,and/or specific usb devices by hardware ID to operate on specific clients or across the network.

Get automatic realtime email alerts of portable devices conection to any network station. (smtp) New
Authorize specific external sata drives (e-sata) on any client station.

Automatically receive alerts, and record the insertion of allowed, or blocked devices in real-time.

Up to date with technology protection:
- Super speed transfer usb 3.0, e-sata and firewire
- Latest generation media transfer protocol devices

Presents informative alerts screens at client side upon devices connections (personalized with licensed organization logo)

Generate security status, alerts or per machine protection history reports.

Audit: system information, installed software, windows updates- security patches, and running processes on any client.

Option to deploy password to allow temporary authorization from client end while client PC or laptop is not on the network.

Remote update or uninstall client application





| | |
| --- | --- |
| USB LOCK RP Plus | |

+ Monitors file transfers made from client PCs to authorized devices.
Capabilities (in addition to USB Lock RP)



Automatically monitors and registers:
The name and exact size of files transferred from client PCs to authorized USB's.
Device insertion date/time and the specific device hardware identifier (ID).
The name of the PC machine and user/users logged at insertion time.
(Aka

USB Aware add-on

)

Get auto-email details of extracted files to authorized devices across the network. new (smtp) (also compatible with Microsoft Exchange setup)

| | |
| --- | --- |
| USB LOCK RP E | |

+ Protects the information inside authorized portable devices.
Capabilities(in addition to USB Lock RP Plus)



Remote portable protection assignment and distribution.
(Aka

USB Aware add-on

)

Centralized password storage: Allowing to internally troubleshooting any "lost password issues"
Automatically logs the relation:
DEVICE USER-DEVICE ID-DEVICE HOME-DEVICE PORTABLE PROTECTOR PASSWORD.

Smart auto-encryption: When force encryption is set to ON, files transferred to authorized devices are auto encrypted and the user at client PC is noted of the encryption progress by a small unobtrusive message and distinctive pitch beep.

Forcing auto-encryption is recommended to ensure the portable protector is used.

USB lock RP-E Portable protectors run inside the USB's drive offering password protected drag & drop file encryption/decryption.




---

REFERENCE DOCUMENTS (pdfs):

usb lock description

usb lock licensed organizations list
usb lock price list
usb lock authorized distributors list

If no distributor is available in your area, please contact us to obtain a formal quotation or proceed to order page for quick ordering in small quantities.

---




What experts say about USB lock RP


---

By

Caroline Marwitz,

ed

itor & content manager

Windows IT Pro, SharePointPro Connections Magazine,

SQL Server Magazine
Buyers guide (comparassion with other endpoint security products)


---

By Ron Barrett

USB Lock RP: Endpoint security that is not a pain in your end!

Quote:

Networkworld complete usb lock rp article


Of course, Group Policies go a long way to help with managing the madness. But group policies do not stop the endless stream of users from asking someone with permission to plug in a device and move the files or whatever to or dare I say it FROM your network!

What if we could remotely and in real time: allow, block and even monitor (devices plugged in as well as files add or removed) and do all this from a central location. We can with a great little tool called USB Lock RP (Remote Protect) available from Advanced Systems.

USB Lock RP

is endpoint security software that installs a client on each machine in your organization and gives you the power to monitor and control removable devices in your network. USB Lock RP goes a bit further than that allowing you to receive alerts when removable devices are attached to a network PC and providing a report on the files moved to or from these devices. A centralized controller can administer over a 1000 PC's from one location (sounds like a nice job for Jr. Admin.)After all you have better things to do like get back to your Second Life resident.

USB Lock RP

not only allows you to maintain control and have flexibility. It gives you peace of mind when it comes to endpoint security and removable devices and more importantly is gets rid of PEST!
Legal Notices:
USB Lock RP©-USB Lock RP E©- USB Aware©-USB Lock RP Plus©-USB Lock RP+©- USB Portable Protector© - USB Lock Standard© - USB Lock ST © Copyright of Advanced Systems International SAC, all rights reserved. Registered Producer: Advanced Systems International SAC- RUC 20509887161 – http://www.usb-lock-rp.com - Author: Javier A. Arrospide - contact: javier.arrospide@usb-lock-rp.com - Registry Office: INDECOPI (Author rights office) - http://www.indecopi.gob.pe